Trumpet/Mermaid Sweetheart Court Train Tulle Lace Wedding Dress With Beading Sequins
#56929
Product Reviews
Write a review
jjx2018
2020-06-16 07:52:27
I was very suprised with the quality. It is beautiful and well made. It was slightly snug in the stomach area and the top is a tad bit small but mostly because of my body shape.
perezml0122
2020-04-04 16:16:35
My dress is beautiful! The workmanship, materials, and details are beyond my expectations! I ordered based on the measurements and it fits slightly loose, no big deal, but I would say it's true to size. Also, it arrived well before expected delivery date! Wonderful customer service+beautiful dress=one happy bride! Thank you!
SHAKIRA LEI
2019-10-16 14:19:04
Fell in love with the dress as soon as I saw it! Looked juST as good when I got it.
imarie81
2019-10-04 02:29:20
Good quality and gorgeous! , I submitted a custom measure but came a little bigger.
Dot F.
2019-07-10 19:11:47
This dress is beautiful and exactly what I was looking for! I would recommend giving your measurements so you don't have to get the dress altered. The quality is amazing and the design is gorgeous. I will definitely be referring my friends to JJs and ordering from them in the future!

mnotte76
2019-07-06 17:42:51
My dress was absolutely stunning the compliments I got on my wedding day we're on going a lot of people couldn't believe I bought it online I was sceptical at first myself but I would recommend this site to anyone.
I did not need to make any adjustments as it was custom made for me..

Samantha Holbrook
2018-08-26 02:50:25
Amazing company, couldn't recommend enough, I ordered the dress with arranging the wedding only 6 week advance, customer service is second to none, every question was answered promptly and it arrived when specified would recommend to anyone

Sarah
2018-08-15 11:56:07
I was very conflicted between this dress and a similar one because I was unsure about the straps. (I had tried on dresses in stores and really liked the strapless look.) But so many other things about this dress appealed to me that I ordered it thinking I could return it if I didn't like it (despite seeing reviews stating clearly that they don't do returns). I didn't make a custom measurements order because I thought I might be able to return it if I just got a regular size. I REALLY wish I had gotten custom measurements, at least on the length, because I knew they always come very long.
As I suspected, the straps were a sticking point. Although the dress looked okay on me with straps, I really wanted a strapless dress. Fortunately I found an amazing seamstress at a nearby shop, and she said she could make it strapless and hem it while preserving the beautiful lace at the bottom of the dress (both for a price of course!). It turned out to be absolutely beautiful strapless, but of course I had to sacrifice the beautiful keyhole back. I wish I could have had it both ways! Anyway, I received so many compliments on the dress, and people even thought it was a well-known designer dress. Even though I ended up spending more than I had wanted to between the dress and alterations, I still think it was a savings and one of the most beautiful dresses I saw while searching. The beading, back buttons, and lace detail make this dress stand out.
I would recommend this dress but suggest doing the custom measurements for the length at least.

Ordered this dress in champagne too match my skin tone over a year ago, and worn it on my wedding day in June 2018..
Everyone complemented my dress it was beautiful the first day it arrived..
When you order get it custom made, i made the mistake of ordering it in a size Australian 14 when it arrived it looked like a size 8 I returned it back ordered it in a size 20 which is an Australian 14/16 i only had too make small adjustments to it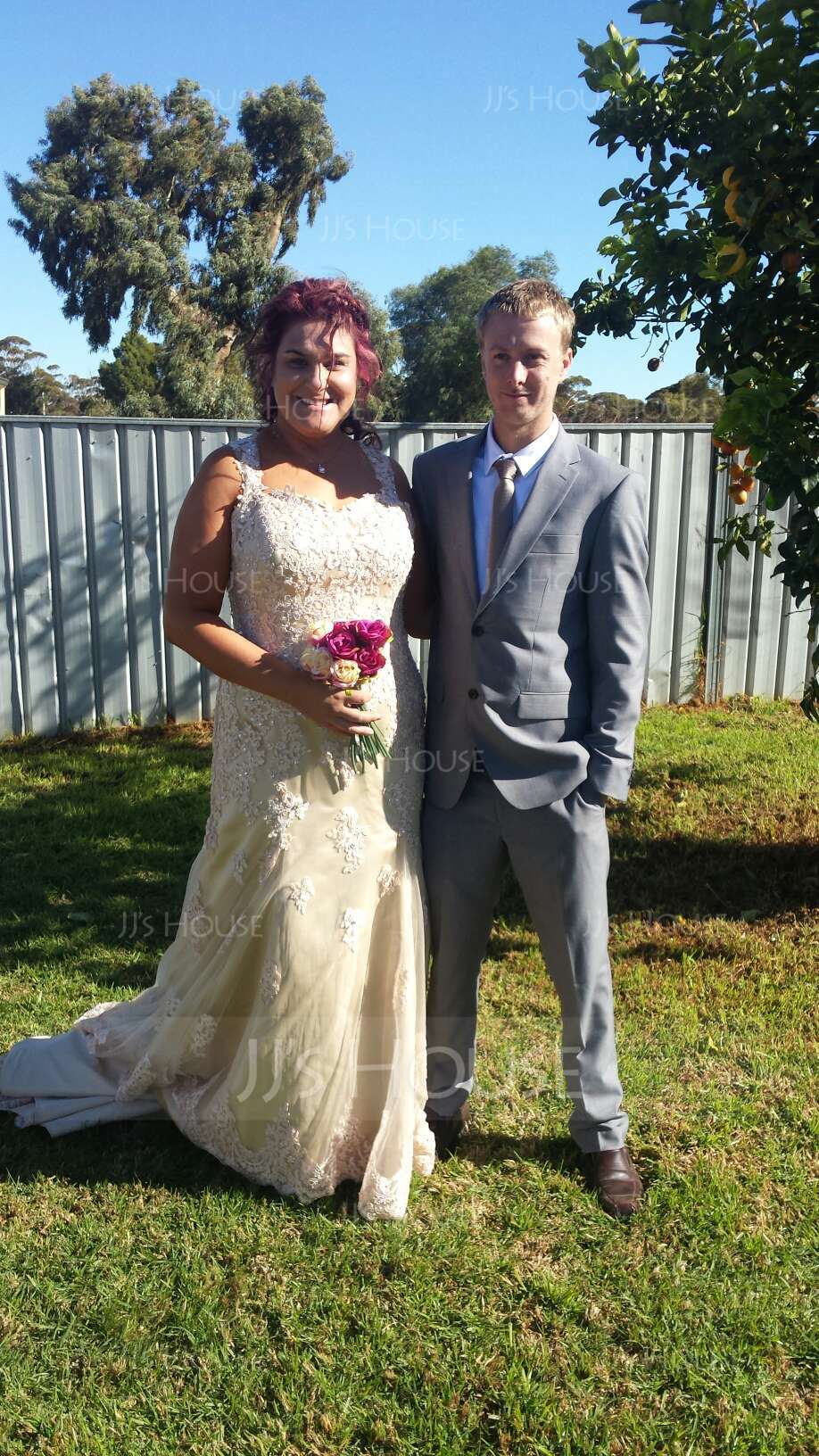 Lilian
2018-05-12 17:10:42
I loowed and felt like a queen on my special day in this dress. My king had his mouth opened as I was walking down the aisle to him. It's elegant!!