Sheath/Column Halter Floor-Length Chiffon Satin Wedding Dress With Ruffle Beading Appliques Lace Sequins
#12582
Product Reviews
Write a review
Lisa Elliott-Bridger
2020-06-27 05:12:33
Love this dress, exactly what I was looking for, made well, arrived promptly. Ordered bigger size as heard they run slightly small and fits perfectly, wanted something simple but pretty. Bought in ivory. Love the embellishments and halterneck.
Elaine Hardy
2020-06-16 17:10:04
I have to say I was surprisingly IMPRESSED. this dress quality was very good! the fit, the description the delivery. everything was exactly as pictured and described. I can not submit a picture yet as I am not married yet (don't want the groom to see) but after we are married I will surely add a photo of my dress/shoes/head-piece. ALL bought from JJ House, each and every item was great quality and speedy delivery.
Trixie
2019-09-04 08:04:48
I did have some of the length taken off and some of the length in the straps...the dress was beautiful!!

brenda Casserley
2019-06-07 01:42:31
Wow my dtess is stunning. It is a bit big on the chest and waist but nothing a good seamstress can't handle. Material is beautiful. I will post pics of full dress, veil, tiara and jewellery once altered. Ordered everything but my shoes from jjs house for my wedding. I absolutely love it!!
levesque_nathali
2019-02-12 07:38:19
Superb beautiful dress of very good quality, a beautiful pure white and light. I had it custom made and everything was perfect. I loved it. Lovely dress, good quality of pure white, very light. I had it made to mesurements and all was perfect. Receive a lot of compliments, I would not hesitate to get it ...

Cindyv27
2018-12-10 03:48:27
This dress was better made than expected. Great quality and super comfortable.
Extremely pleased with this dress at a great price too!
trc139
2018-07-15 18:56:45
I wore this dress to my wedding in August 2014. I thought it looked stunning. i bought a size larger than i normally wear and had it altered because i wasn't sure how the size would be and i thought it would be better to buy it bigger rather than too small. I also had the beads on the halter strap removed when i had it altered. It looked so good - people couldn't believe how inexpensive it was.

sarahlouholmes
2018-06-17 04:58:10
Stunning dress with beautiful detailed beading. Well made and lovely fit. Lots of compliments and amazing price. Excellent customer service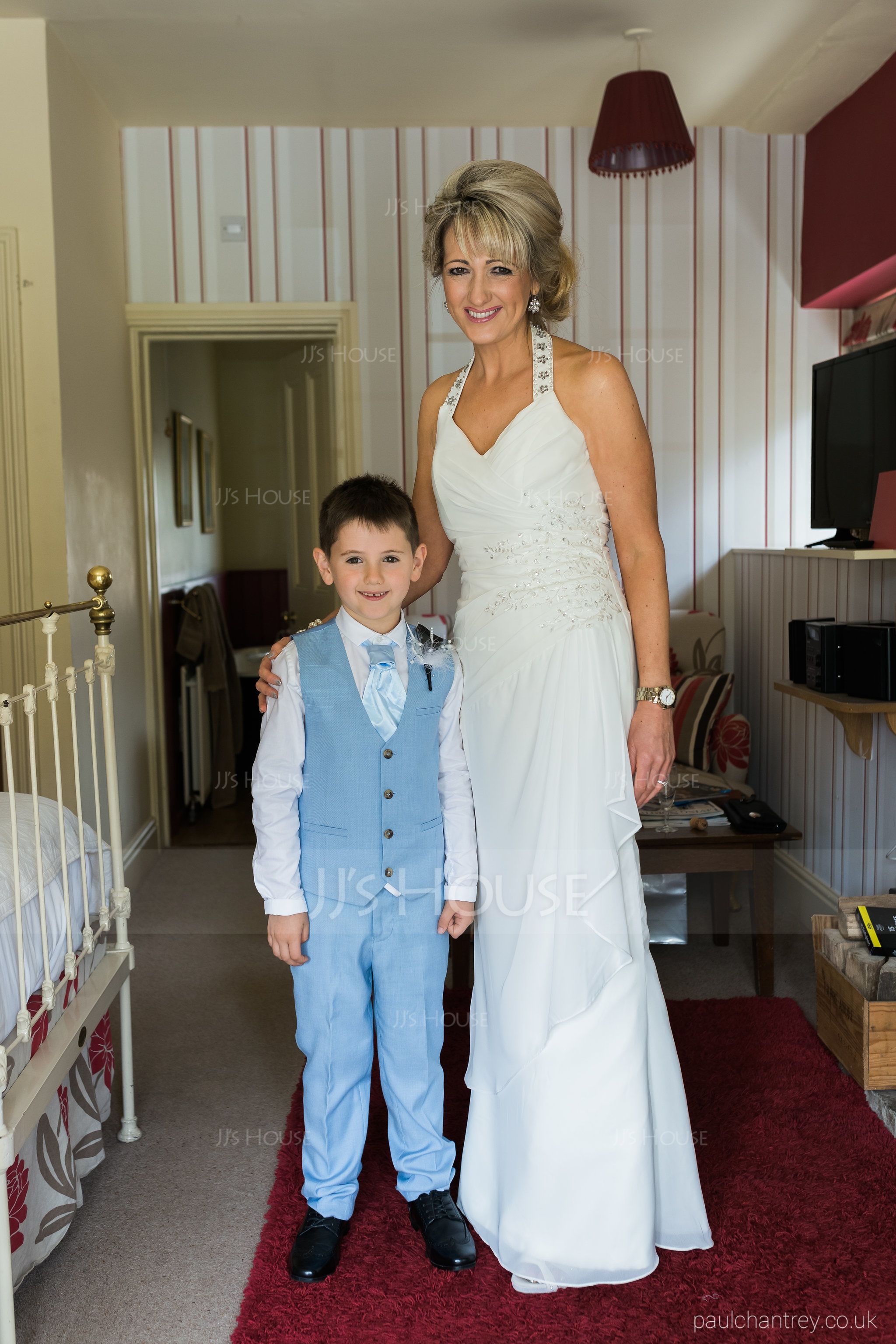 awilliams
2018-06-05 02:00:23
This Dress is lovely in the photos but so much better in real life. The quality is really good and on par with any Wedding Dress Shop's in the UK. The service from JJ's house is efficient. You can track your order and they come back to you with any questions they have. I had made to measure and the fit was perfect. I did have the back changed to a corset style but that was just a design preference on my part. I recommend JJ's house and this dress and will be using them again.



laurence.martin30
2018-05-23 06:32:13
Perfect dress. Received quickly. No editing to do. Thank you jjhouse !!!!!!