One-tier Chapel Bridal Veils With Lace Applique Edge
#36773
Product Reviews
Write a review
ktearney
2020-09-17 05:21:17
So happy with my veil, it's beautiful. Can't wait to wear it on my wedding day!

Brittany Rocha
2020-06-04 05:49:14
Beautiful veil. The only thing is a lot of rhinestones have fallen off, which is perfectly fine with me but I could that being an issue with others. Great price point for the strapped bride.
Olivia Theisen
2019-05-08 14:18:17
I absolutely loved the veil! It was a last minute purchase. The only downfall was the shipping. It took two extra weeks to get delivered. But it came just in time for the wedding. I would have given 5 stars if it weren't for the shipping.

Jasmine Jenkins
2018-07-15 22:51:34
AWESOME just what I was looking for. Great quality for the price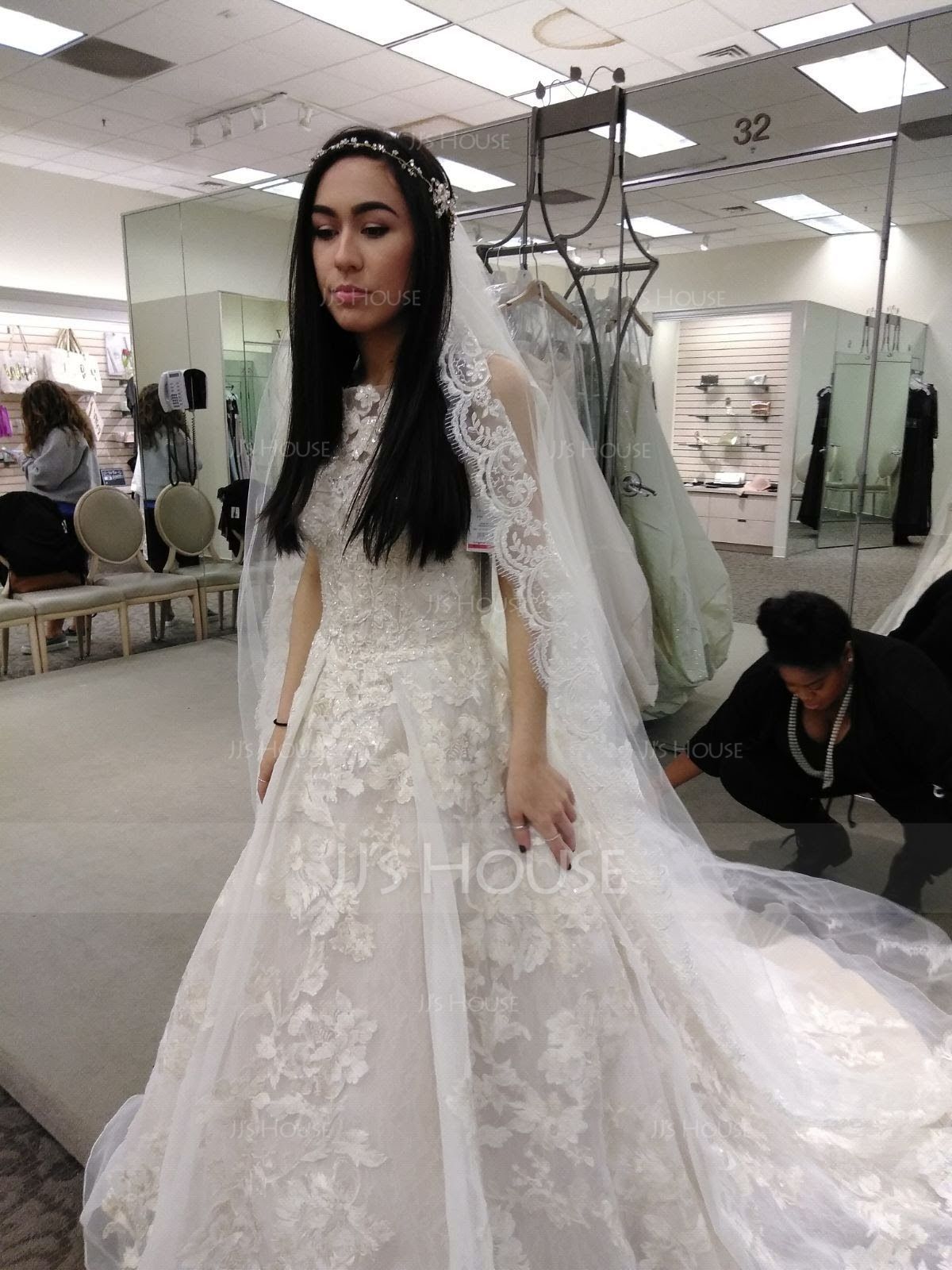 Joannda
2017-12-11 07:53:49
This veil is stunning - there is no way I could have bought a veil like this in a shop for this kind of money. The attached comb is perfect for easily fitting the veil in your hair, and is sturdy so no risk of it dislodging. Would highly recommend.
tiffanymasga
2017-08-11 13:15:02
I got a lot of compliments on my veil on how pretty and long it was.it was more than I expected I was so in love with my veil... especially it was so inexpensive. I highly recommend jjshouse for your wedding attire.
sweet_hrt_22
2016-06-25 07:56:00
Beautiful veil that looks amazing with my dress!
Agwc90
2016-02-03 02:59:29
I purchased this veil with the A-line/Princess Scoop Neck Court Train Chiffon Lace Wedding Dress with Ruffle Beading Sequins. I was looking for a trim that would match the dress and it compliments it very well! A little bit of sparkle with the edging of lace that I was looking for. Perfect!

Gloria
2013-11-19 18:42:01
The nice veil can match my wedding dress well from the aspects of fabrics, colour and style. I like the fabric most because it touches comfortable and of high quality. The lace and tulle are perfect combination. Love it very much.