Half-Sleeve Satin Special Occasion Wrap
#12283
Product Reviews
Write a review
julie018000
2020-08-08 00:56:27
Je suis plutôt satisfaite de mon achat. La qualité du boléro est très correct pour son prix. La couleur correspond à la description. La taille est un peu juste.
La livraison à été longue mais avec la situation sanitaire actuelle je pense que c'est correct.
Je recommande ce produit.

Silvia Vincenzi
2019-10-10 08:07:42
Ho acquistato il bolerino di raso rosa pallido, è molto elegante e le misure corrispondono alla tabella taglie. Veramente un ottimo prodotto!
Sabrinawhill
2018-09-28 16:19:24
Fantastic quality. Arrived a little wrinkled, but that's to be expected.

rj.burley
2017-08-22 01:30:40
Readymade and just as pictured. I can highly recommend this jacket.
office
2017-05-25 17:18:08
Sleeves shown longer than reality, good fabric and the collar is great.
This jacket is exactly what I was searching for to wear with my wedding dress, which is strapless. It's enough to cover my upper back and shoulders but is short enough in the back that the corset-back of my dress is still visible. I'm very happy with it!
azmiggie
2017-01-04 13:51:05
I ordered this jacket to go with the Ball-Gown Sweetheart Court Train Satin Wedding Dress (002012634). When I placed my order I asked them via comments to make sure the jacket was made out of the same satin fabric as my dress. It matched perfectly!

vtzineris
2016-12-08 17:02:12
thank you so much, i look forward to the rest of my items
i hope they are as satisfactory as this purchase.
if i am happy with the items, you have not seen the last of me.

kind regards

Vicki
ninetwofive
2016-07-06 18:09:07
I love this bolero. I have purchased 3 now, jade, fuschia and blue. So versatile and due to its style fist most body shapes. I wear them to tizzy up simple little black dresses. They make a stunning statement, and I always receive compliments whenever I wear them. I highly recommend them to anyone who loves simplistic elegance. Marijke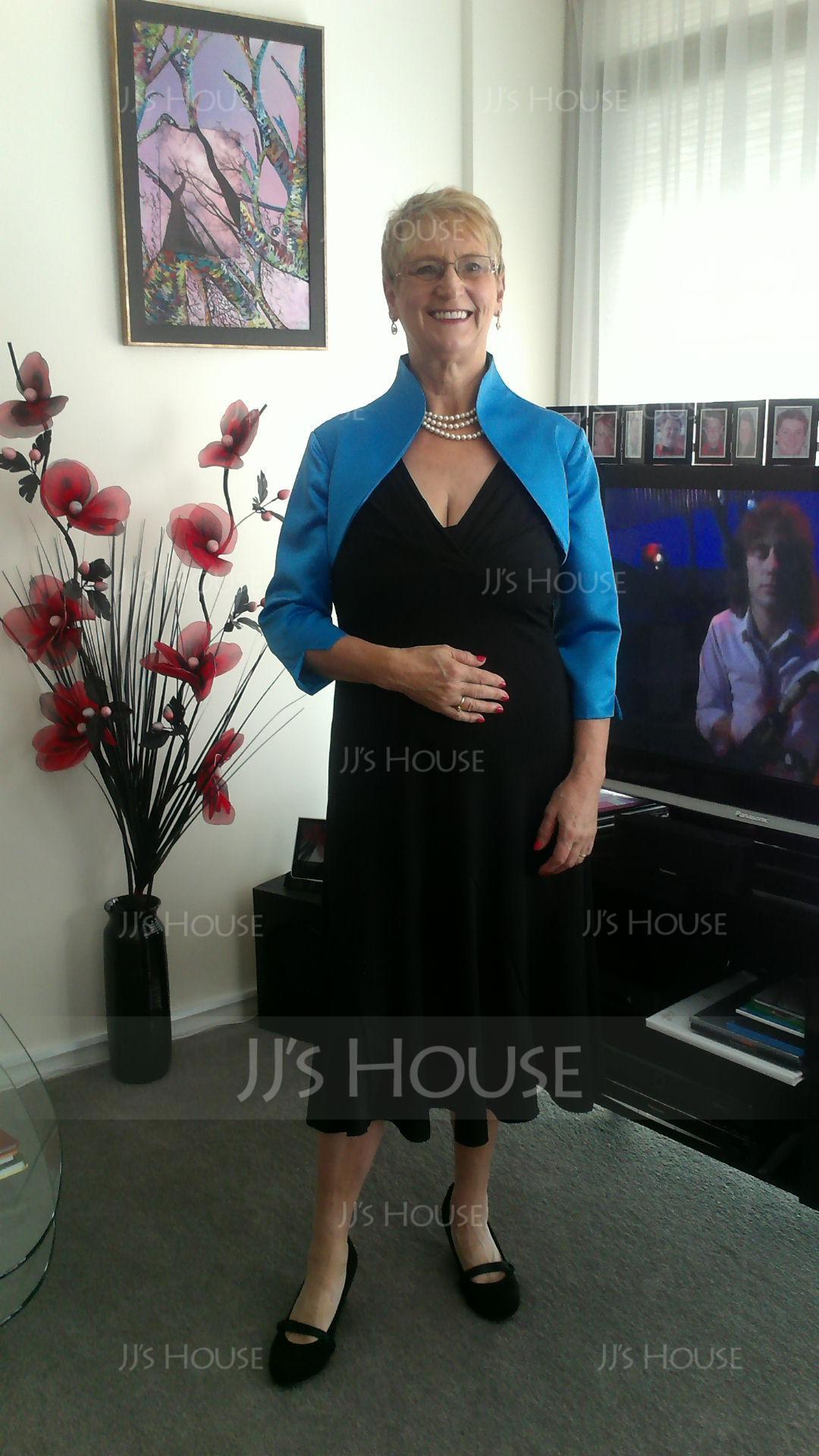 ninetwofive
2016-07-06 17:31:58
I have purchased 3 of these Half-Sleeve Satin Special Occasion Wraps. 1 Jade (see photo), 1 Fuschia and 1 Blue. Love them. They are fit well, and go with so many plain dresses to make them look spectacular. Its simplistic bolero style lends itself to most body shapes, as it does not cover the breasts. I am very heavy breasted compared to the rest of my body, so this style is ideal. Love them. Marijke