Empire Square Neckline Floor-Length Chiffon Maternity Bridesmaid Dress With Ruffle Beading Sequins
#4412
Product Reviews
Write a review
Lauren.blackman
2019-12-30 15:41:18
Gorgeous dress - good service as JJ's house contacted us to confirm sizing is 'standard sizing' and not maternity. Not an issue though - JJ's house put the order on hold so we could provide measurements for it to be custom made to measure to accommodate growing bump!
Gena22
2018-06-02 16:33:58
Excellent quality, great custom sizing and correct color as per picture. Came early also! Very happy!

robinssmith
2018-02-28 08:38:40
This the second dress i have ordered and love them both.they fit perfect. Arrived quickly .i am ver y pleased.
Perfect! I read online that they recommend ordering the custom size if you're pregnant, so I did. Received an email for size clarification for the belly area which I appreciated. Dress arrived quickly, looks really nice, and will definitely fit over an 8-month baby bump! Love it.

hanieseraj
2017-03-04 13:59:55
Very happy with my order, Ordered in Burgundy color witch was really charming . Very good and supportive customer service. even got a separate email where they asked for the precise size around belly. so it fitted perfect. I ordered in custom size so it was a bit long , but no problem since I got it easily fixed at a local store .
carine.svg
2016-07-19 06:56:13
BEautiful dress very fitted ! recommended for all mom-to-be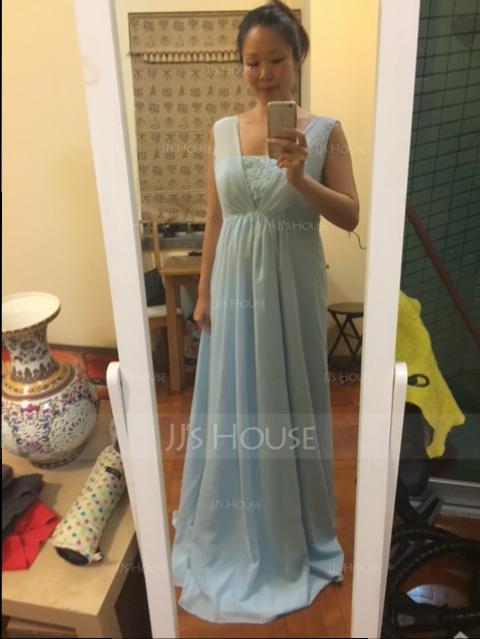 rebeccaklausman
2013-12-09 06:52:28
They did a good job. It was exactly what I needed in a maternity dress at a great price. I did the custom measurements and it was still a bit big and long so I needed to take it in for additional altering. Be sure you measure yourself correctly and don't leave extra room as they will factor that in.
Karri
2013-06-11 01:55:56
I was amazed by the quality of the dress. I write down the measurement the time i bought the dress and the customer service inform I also need to tell how many weeks I am pregnant and how many weeks I will wear it. they are very helpful on buying the dress. The day I wear the dress, it fit perfectly. Many thanks for JJsHouse.