Ball-Gown Sweetheart Chapel Train Tulle Wedding Dress With Ruffle Beading Sequins
#14800
Product Reviews
Write a review
Candy Lemoule
2019-11-07 13:30:28
Super thank you for your work beautiful dress super rendered as in the photo again thank you

tylindz
2019-05-13 11:42:17
Just wanted to write a quick review and let you know that the wedding dress I purchased from you for my daughter was absolutely stunning. The dress was delivered in perfect time and is of very good quality. I will most definitely be ordering from JJ's House in the furture.

Thank you


Angie
2019-05-01 20:26:36
I had my dress custom made I was very nervous after reading reviews on here after purchasing my wedding dress. I received my dress just as expected and it is beautiful a little big but my fault for not measuring correctly material is lovely thank you I would definitely recommend it.
Sequoyah Weems
2016-01-03 20:04:13
This was a beautiful dress. I will definitely shop at jjs house again.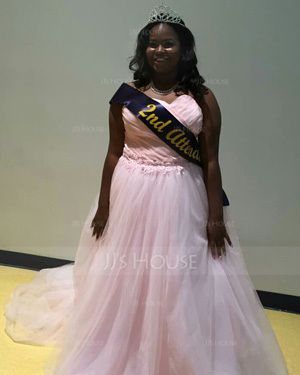 rheaodo
2015-10-30 16:42:44
i really like my wedding gown i cant wait for my big day :) thank you jjhouse
madeleinelindberg79
2015-07-18 02:08:45
My dress just arrived and I´m so happy with this dress!! It´s PERFECT!! It is over my expectation!!
The quality is WOW!!!
Highly recommend you to by this dress or any other dress from JJsHouse!
The are the best in every way!!!

kiayang
2015-06-09 21:03:18
I was surprised by the quality of the dress and it fit very well. Was so worried about ordering a wedding dress online but it fit great. The reason I am giving it a 4 star instead of 5 is because I wasn't too crazy about the train; but overall beautiful address.

rtlfan
2015-04-30 04:02:23
This dress was even more beautiful than the picture! It fit perfectly! I was hesitant to order online, but I could not afford the prices in the bridal shop. I resolved myself to make the most of this dress and ordered it! I am still in shock at his exquisite this dress really is, and for the price. It is far more beautiful th and the $500 + dress that I tried on in the bridal shop! and yet is was so much cheaper. Thank you jjshouse for making my special day that much more! Praise God for you all! I will ALWAYS recommend jjshouse to every bride from now on, in fact, if anyone needs any dress I highly recommend you give them a try. I imagine that each and every dress that they make is just as beautiful, no matter the occasion! Thank you again, I simply cannot say enough!
rtlfan
2015-04-22 12:42:51
I just received my dress in the mail! Like everyone else, I was skeptical about ordering online, even though they have pictures! I made up my mind that it would be ok and prayed that I could just make the best of it no matter what....let me tell you....this dress is more than anything I could gave imagined! It is beautifully made, looks more amazing than the picture shows, and was soooo reasonably priced! I am still speechless and I've been looking at it for 2hours now. Thank you jjshouse for this dress at a price I could afford. In my opinion, it us better than any $500.00 dress that I tried on in my local bridal shop. I simply cannot express house very happy I am, I have been truly blessed today. Thank you from the bottom of my heart!! I WILL recommend this site to EVERY bride to be from now on! Thank you again!
Bride To Be
2014-08-11 08:04:03
Amazing dress looks just like the picture I was so worried about ordering such a important gown offline but it became everything I wanted and more!!