A-Line Sweetheart Asymmetrical Chiffon Evening Dress
#13987
Product Reviews
Write a review
taleealee925
2020-04-25 16:31:44
Dress arrives inside out to protect the Chiffon material. I'm 5.5 feet tall and I ordered a (size 6)
The dress fits me perfect. I love how the dress has
the longer material in the back. It adds a touch of flare. Now that I have the dress, I'm waiting on my evening bag and another accessory that I might wear with the dress. I have also order some jewlery from various sites. BE SURE TO READ THE TAG ABOUT JEWELRY AND REMOVAL.

I will order another dress from JJs House in the future.


Adrian
2018-07-12 15:14:06
Hola para todos ,fue una excelente ocasión comprar con jjshouse.
Servicio al cliente muy bueno, tienen un chat para todos.
Le doy 5 star.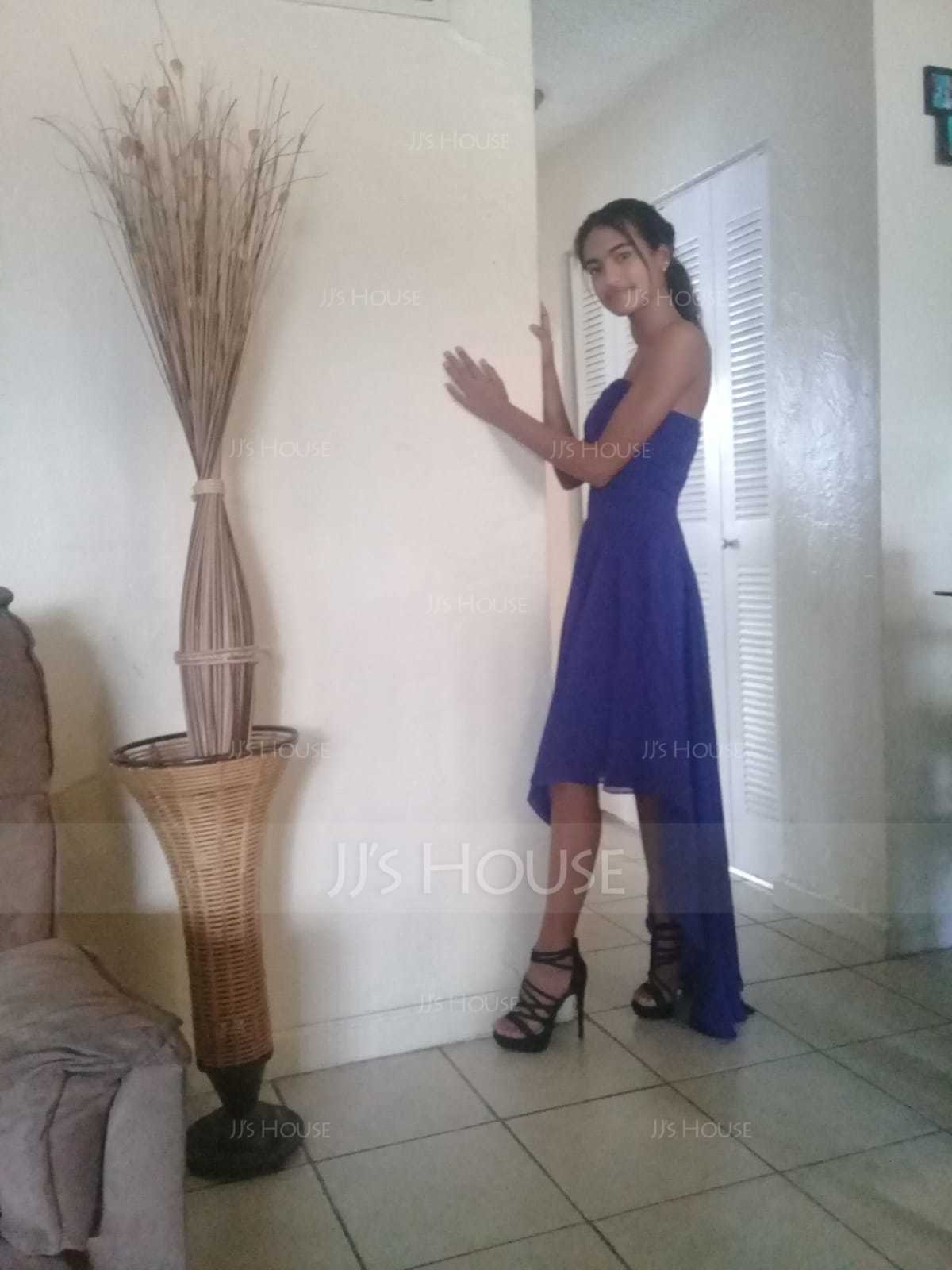 mpja26
2018-05-28 02:31:10
Dress according to the photo. Taken in powder pink ... great color!
The custom size has been respected.
The fabric is very comfortable, very good at the level of the bust
correct delivery time (although a bit expensive for my taste)
very happy with my purchase despite my fears of ordering on the internet I am delighted!
thank you



Nath Alie
2018-05-24 11:17:38
Well received the dress, and very pretty, fushia color and beautiful fabric, it suits me very well. Order made with my measurements. Thank you very much and fast delivery.
charlene.desj
2017-07-04 04:39:28
I am satisfied with this dress that I ordered tailor-made.
She fits me perfectly.
No difference between the photo and the reality.
I recommend !
alain.bigar
2017-05-27 15:11:11
Exact measurements as well as the color, perfect cut comfortable to wear, not disappointed by my purchase, I recommend it, even for small chest
NOUBAK814
2017-05-12 02:18:39
I absolutely wanted to publish this opinion.
I am delighted with my dress! very beautiful, beautiful fabrics, beautiful color! I dared an Orange which is beautiful!
I read reviews not always very positive!
I received in 2 weeks my dress on measures, while I had paid the cheapest port!
No additional charges! No surprises!
Very satisfied!
I would start again!
alix.andrique
2017-03-26 02:48:27
Very satisfied with my first order on this site. the order perfectly matches my expectations and the dress suits me perfectly!
perrinanne
2017-03-14 06:06:55
Dress ordered to celebrate my birthday to measure. Received quickly very well packaged and perfectly to my size.
Super content will recommend for another circumstance
saimonlaurette
2016-10-30 19:07:41
The dress is superb. She is exactly like the picture and the size was right.