A-Line Strapless Asymmetrical Lace Wedding Dress With Beading
#226
Product Reviews
Write a review
lantaron
2019-04-08 02:42:44
les mesures demansées sont respectées et l'effet souhaité est là ....j'adore !!!!

Agnès Lantaron
2019-04-07 05:21:33
Elle est juste splendide, les mesures demandées sont bien respectées
Je l'adore !!!!
Merciiiii

Agnès LANTARON
2019-01-25 22:48:45
j'ai acheté cette robe en champagne, très jolie, mais je vais la recommander en ivoire
sur mesure bien respecté et très agréable à porter

gallais.sophie
2018-11-25 12:08:15
très jolie modèle, commander sur mesure et me va parfaitement j'ai enlever 1 ou 2 cm sur chaque mensuration suivant la recommandation d'une amie et c'était alors parfait.
Oh my goodness, I can't say enough about this dress. The dressmaker really did a fantastic job! I went to a couple different wedding thrift stores, plus David's Bridal in both Iowa and Wisconsin. All in all I tried on 24 dresses and couldn't find "the one". Who would've thought that browsing online, I would have found it in an instant. We are having a country wedding, so I'm wearing this with cowboy boots and a red satin belt/sash. The only thing I had to do is shorten the hem (easy enough to do as the lace hem is sewn over the bottom of the dress. Just remove and move it up) and there were a couple longer strands of clear line that attached the beading. I just trimmed them with a scissors (there was only like 4). Honestly they really did a wonderful job!!
Joanna Alcorn
2017-05-10 11:27:26
I absolutely LOVE my dress!!! Thank you so much! I ordered a size two, I did not have it altered at all. It is long on me but I knew it would be when I ordered it since I'm only 4"11. I have to say, this dress is a very good quality! I will be buying my bridesmaids dresses from this site also!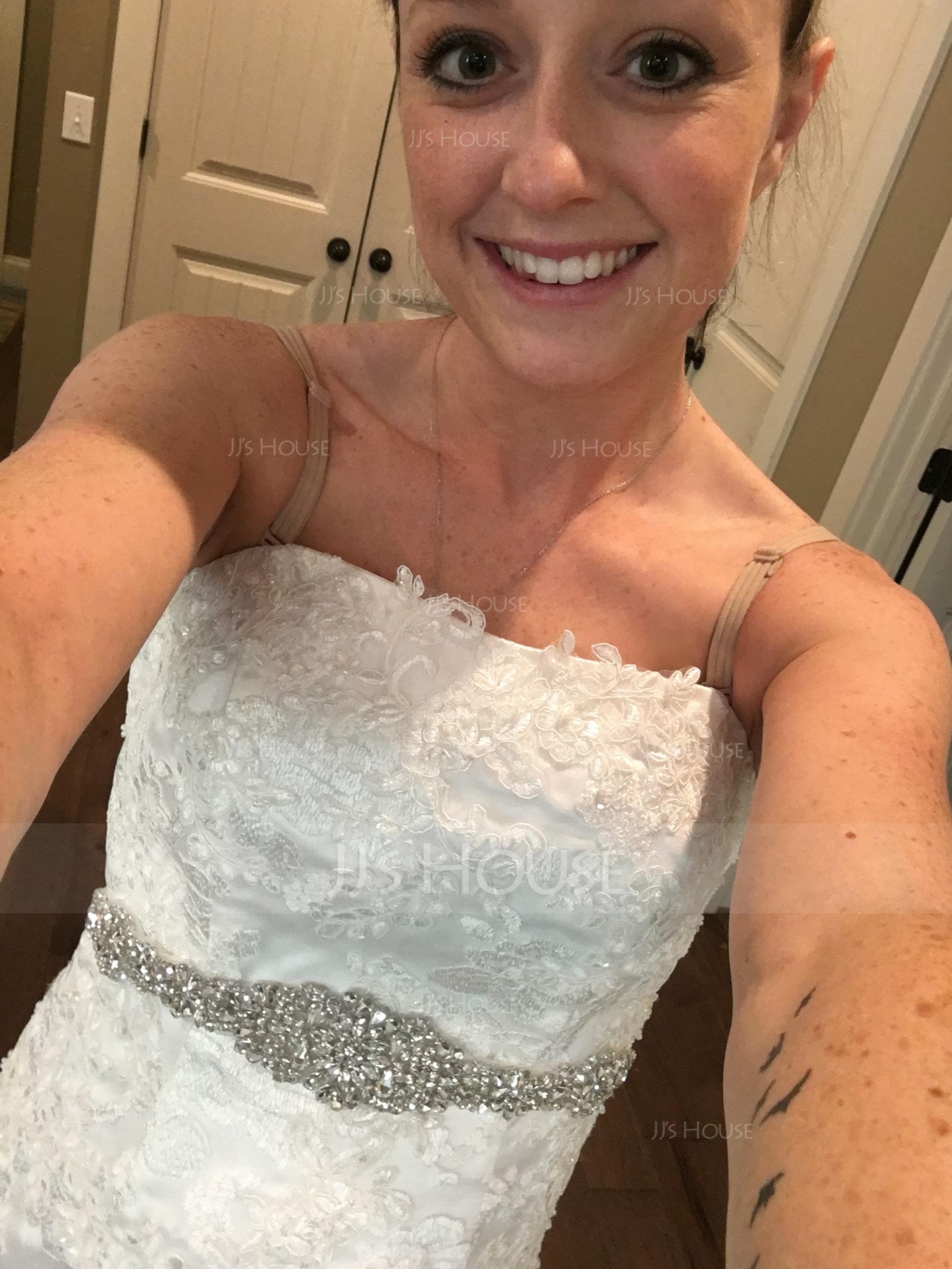 Kathleen
2017-05-03 22:01:09
A stunning dress! It's exactly what we were hoping it would be and if you are looking for a lacy asymmetrical dress; this is it! I can't wait to see it worn by my sister on at her river wedding.

Kata Hargitai-Boros
2016-04-04 20:46:17
Best choice ever,and it cost only 140€. This dress just made my big day perfect.

Tirish
2016-01-15 17:21:36
The dress was well made and was as gorgeous as it looks. I only had to make slight
alterations. Thank you for such a wonderful dress.
katiaribeirokatia
2015-09-23 03:34:35
It's a bit different from the picture. I was expecting a lighter dress with more movement. Even ordering a tailoring size, it was too long for me. It is the dress I chose for the civil wedding and it was too shiny for the occasion (11am), so I removed all the beads. In the end of the story I had to spend more €90 to fix it. But I was happy anyway! It's beautiful!!!