Out of Stock
A-Line/Princess Scoop Neck Floor-Length Chiffon Mother of the Bride Dress With Ruffle Beading Appliques Lace Sequins
#58395
Product Reviews
Write a review
Queena_P.
2015-07-28 18:54:42
A terrific dress ! The price is seasonable as such a dress would cost about $ 250-300 in our city!!! I am very glad to order it! I was afraid that it would not come in time ... bought 2 months prior to the date. It arrived within 14 days:)
daisy_james
2015-07-25 00:33:56
I love this A-Line/Princess Scoop Neck Floor-Length Chiffon Mother of the Bride Dress.I got this dress 2 weeks after I placed the order. The dress was made according to my measurements and fitted me like gloves. Thank you jjs house.
HI JJSHOUSE.
I received the dress today and the dress is so beautiful. I like the simple lace appliqué and ruffles on the dress. The dress looks pretty and elegant. I will wear this pretty dress on my daughter's birthday.
Thank you so much.
I love this dress, it is so nice and elegant. I will recommend you to my friends and family. Also, the delivery is fast.
cindy
2015-09-04 13:24:40
Beautiful dress, fast shipping. Make sure you get sized by a seamstress before you order
Belinda Yates Van Veldhuizen
2016-08-06 18:56:53
Was sent quickly and looks beautiful

sugripa
2017-01-18 14:56:59
This dress is so well-made, it's even fully lined! The color is called "as picture", which in this case was a steely grey, but I guess it's different than their actual steel grey. The fabric is quite soft and will be comfortable while wearing for hours. I'm only 5'6", so I will have to get it hemmed once I determine which shoes I want to wear. The turn around time between ordering and receiving was less than three weeks, even though I ordered a custom size ($20 extra) because I fell squarely between two of their two standard sizes. Don't forget to order the long breathable storage bag to protect the beading from snagging.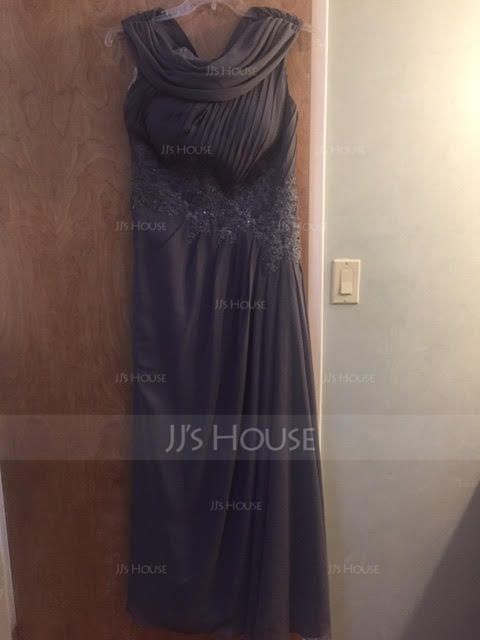 cmsheff
2017-02-19 08:58:05
Dress arrived very quick and the quality was even better than I expected. I also chose the custom fit and it fits PERFECT! LOVE IT!!! Can't wait for my daughter's wedding so I can show this off!
kissy0125
2017-06-27 04:03:43
My dress arrived sooner then expected. It's so beautiful. I've had so many compliments on the dress and color. I can't wait to wear it for my son's wedding on July 8th. I have already recommended the site to family and friends that their children's will be getting married. I'll be ordering from them again
dsn1958
2017-08-23 17:16:40
At first when I took it out of the box I was confused and going " Oh no " Then my husband said it was inside out, probably for shipping. After I put the dress on and husband said I was gorgeous, This is not any everyday occurrence so needless to say I was please. He even said that my hair that was just pulled up should be worn that way on our sons day. The reason being the neckline is so flattering. It is very form fitting, which is what I wanted but if you want a looser fit you may need or order a larger size. I would say it is true to the measurements.