A-Line/Princess Off-the-Shoulder Floor-Length Chiffon Mother of the Bride Dress With Beading Appliques Lace Split Front Cascading Ruffles
#40834
Product Reviews
Write a review
Anita
2019-09-20 18:52:32
After months of searching for a tasteful mother-of- the-groom dress I was beyond frustrated. It was as if only two styles existed; dowager or street hustler. Ads for JJ's house appeared on my social media feed with budget-friendly, lovely dresses in a wide range of styles. I found two I loved, but I was terrified to order. After still having no luck in stores or other online shops, I decided to try JJ's. I chose to customize the dress. Email communication from a representative was immediate and cordial. A change to the sleeves Was suggested. I trusted what was said. The dress arrived within three weeks. I was prepared for disappointment, but I was pleasantly surprised! Other than a hem adjustment (based on other reviews I expected this) it is an amazing fit. I would encourage any of my friends looking for a formal dress to purchase from JJ's House!

mesa.snowbirdjewelers
2016-09-19 09:29:30
The dress fit perfectly as I sent in my measurements for a custom dress!
I've just received this dress and it is perfect! Absolutely stunning quality and my alteration requests were adhered to exactly. I am so pleased. Fantastic customer service!
mdigges
2016-07-18 09:13:54
I didn't realize the applique was white and I was looking for silver. Fit was a little off but I really think it was my measuring. Quality was amazing. I'm going to change the applique and once my seamstress finishes with it I think it will be amazing.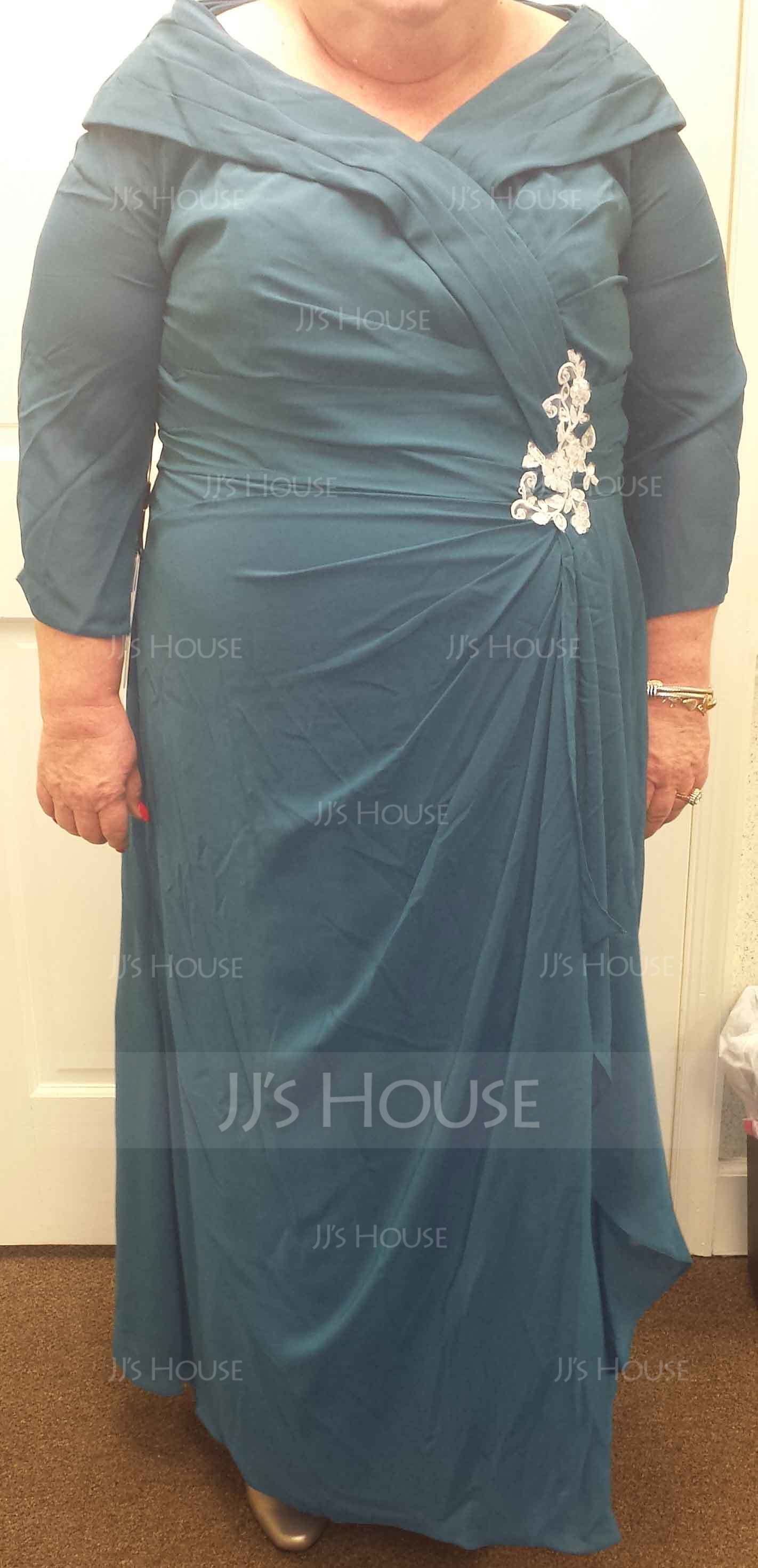 diamondheart63
2016-03-08 18:55:24
I received my dresses today, a day earlier than expected!! I was so reluctant and afraid to order, because I have never ordered an important occasion dress online. I thought that I wouldn't like it or the quality would be poor. Boy, was I wrong the dress is absolutely beautiful. I love it. My son is not getting married until June I can't wait to wear it. I will recommend JJshouse to my friends and will order again. Thank you, thank you!!!!
Terry C
2016-01-03 19:57:46
My dress fit me perfectly. I loved it for my son's wedding.

Aking71223
2015-12-10 15:35:37
Wow! I wasn't going to get my hopes up and took a chance as I needed a dress for my daughters wedding and hadn't been able to find something I liked...especially with sleeves. So glad I took the chance!! It was very quick in arriving, fits perfectly and is very well made. I may even order another in a different color so I have 2 to choose from. I love it!!!
CindyDiG
2015-10-19 16:46:44
This dress was custom ordered in navy blue for my daughter's upcoming wedding. Although, I typically can get away with ordering a standard size, not to deal with a possible hem and piece of mind to eliminate alterations was extremely appealing. Outside of the hem being about 3/4 of inch to 1 inch too long with heels on, the dress fits wonderful and I couldn't be happier. Everyone who has seen it has commented on how well it was made. The dress has built in support but another unexpected surprise is that the dress neckline allows for a strapped bra to be wore if needed for additional support . The shoulders can be be moved up to cover any straps. As mentioned from other shoppers delivery was prompt. I will not hesitate to shop at JJ's House again and with twin girls Senior Prom months away thank goodness the prices are so reasonable.
martinbird890
2015-06-04 06:16:08
I ordered this dress in watermelon. It is a pinky coral color that is lovely for a summer wedding. The shape is very flattering to my pear shape. I ordered according to my measurements as the website described. The bodice was a bit tight and the length was too long for 2 inch heels. The price is good compared to buying retail locally. Shipping was prompt.