Out of Stock
A-Line Off-the-Shoulder Knee-Length Satin Cocktail Dress With Appliques Lace
#81120
Product Reviews
Write a review
Nadine
2018-10-28 18:56:52
This dress was comfortable, well made a high quality. It was perfect for the marine ball!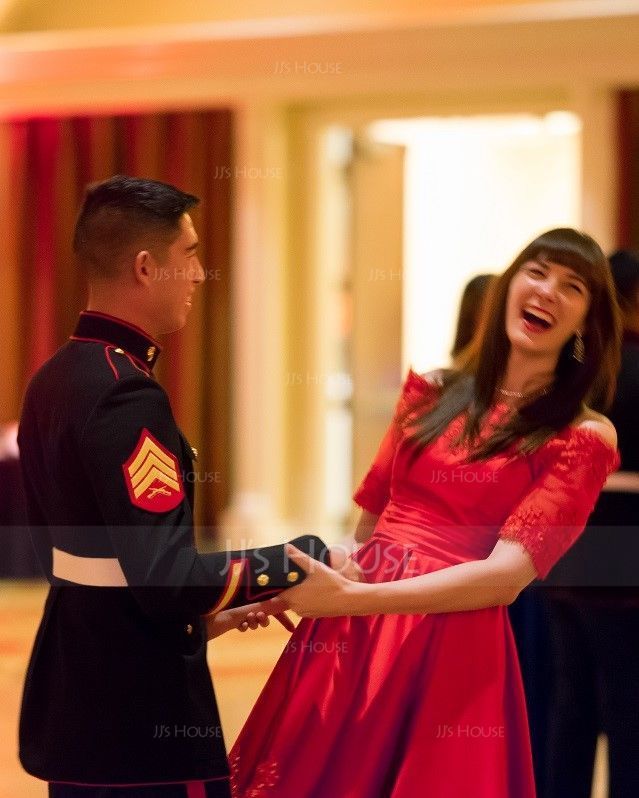 Chinezel
2018-06-12 01:19:04
❤❤❤❤❤

becky4565
2018-03-01 13:16:21
Arrived in gorgeous packaging. Dress was beautiful. Fits amazingly! Would recommend to anyone & would certainly purchase again!
dancingsphinx22
2018-01-10 10:08:09
I love this dress. I ordered it in dark green for a holiday work party. It was a hit!! I loved the vintage, 50s feel. I felt sexy and pretty, despite being totally covered up. It's a very classy dress.

Cons: I ordered the dress in a 6, which is my normal size, but the shoulder area was quite large on me. So much so, that it gaped in the back. It didn't look right. I brought the dress to a seamstress and she fixed it, no problem.

It's longer in person than it is on the model. Maybe I just have short legs (?? I'm 5'5 though), but it hit me below knee.

Other than that, I highly recommend this dress!

Photo #1: The gaping on the shoulders before I had it taken in.

amandakmoody
2017-09-02 12:08:52
I was incredibly pleased with this dress. The sizing was perfection and the color stunning. The bone structure to the dress is amazing and surprisingly comfortable. I highly recommend this dress to anyone. Tons of compliments.

pauline_kingmoodie
2017-08-16 18:44:40
rounds.tom
2017-08-09 16:09:09
The dress is perfect for tonight's event and It got here it plenty of time. She looks gorgeous in it and it fits. beautifully. Thank you!
rbowman18.fb
2017-04-14 09:00:59
The dress came in a week early, exactly what I had ordered. Tried the dress straight from the box the fit was a little funky, which I think is because if they way they must pack them (inside out; to protect the lace) so the fit was a bit big. But have no fear with a couple of days on a hanger in my closet the lovely dress come through, once again trying on the dress it fit perfectly, like a glove almost! Can't wait wear it out! 10/10 would buy again. (I did but the dress fit to my figure (so be sure to measure to their instructions, and please do it at least twice to be precise on the measurements)
Vlawrence59.vl
2017-01-03 01:51:56
Very good quality , excellent fitted and very elegant
tonimariecapo
2016-12-30 00:40:57
I absolutely love my dress. It is made of very good and thick fabric. It is properly lined throughout as well as has cups! I am 5'1 and usually wear a 14. I ordered an 18 in Burgandy and it fit like a glove. I am very pleased and will definitely be back!