A-Line Illusion Knee-Length Tulle Wedding Dress With Appliques Lace
#58763
Product Reviews
Write a review
elisamaret
2020-01-31 02:26:38
J'ai commandé cette robe pour mon mariage civil en septembre 2019. J'ai pris mes mensurations et passé la commande, et j'ai reçu la commande 10 jours plus tard ! Vraiment rapide.
La robe est de super qualité, toutes les coutures sont parfaites, la taille me va parfaitement, l'effet bouffant de la jupe est identique à la photo du site. Elle est vraiment conforme à la publicité. Je vous mets 2 photos, une de face et une de dos. Je recommande vivement !

Clairethetinker345
2019-04-10 20:30:55
Had lots of complements on this dress, amazing for the price too

Pauline De
2019-02-06 12:08:18
Robe commandee en sur mesure. Idéale, agréable au porter un service client qui conseille très bien.
Je recommande je vous glisse une photo pour le rendu
Encore un grand merci pour votre travail

megermain1
2019-02-04 17:13:37
This was a perfect dress for my wedding. I am 5'11 and about 150 pounds - I ordered a size 14 and it fit just right. It was fun to wear and everyone loved how I looked. Incredible workmanship on this dress - 5 layers in the skirt. Beautiful lace and appliqué. I felt like a princess!

pepmag324
2018-03-21 14:16:02
I received this dress promptly, and it was exactly as described on the site. The skirt is a bit more poofy that I'd assumed, but it's a good thing for a wedding dress! I do need to get it altered in the waist and bust, but it fits well other than that. The length is perfect, and it is so very comfortable. I can't wait to wear it to my wedding in a few months! If you're looking for an inexpensive, comfortable, well-made dress that's elegant but not too showy, this is it. I am suggesting this site to my bridesmaids, too.

juliekesson
2017-05-19 11:53:52
Received my dress today for my wedding on July 5th. It is absolutely beautiful. I ordered it in ivory, custom size, and it honestly couldn't be better. Made me feel like a princess! Will post photo after wedding.
Sarah Platt
2016-12-12 14:39:18
I was really happy with my purchase of this dress! It arrived ahead of schedule and fit perfectly! The Vintage feel of it was exactly what I wanted and I received a ton of compliments! I couldn't have found a better dress for a better price!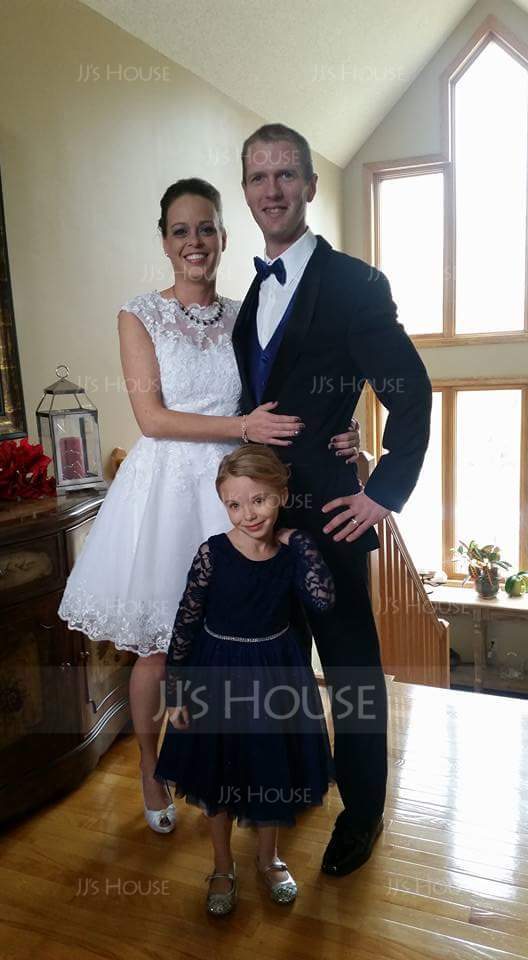 nguyen.nguyet09
2016-09-27 11:26:14
The dress fits perfectly! I ordered a custom-sized dress and expedited it. The dress was completed within days and shipped to my place within 2 weeks!
Sue_ann
2016-06-06 13:11:25
Just received my dress and I wasn't disappointed even better then the picture
Excellent service from jjs house
Beautiful dress beautifully made just perfect n didn't take long to come within two weeks I had it
Madison.Davey96
2015-12-07 19:05:31
I ordered this dress and it is absolutely perfect!
Lovely quality, and the shipping was super fast, only took 14 days to ship to New Zealand!
I will say though that it is possibly a little more puffy than it looks in the picture, but it certainly is still beautiful.

Really impressed with the service from JJ'S house, and super happy with the dress.
Highly recommend...

Thankyou so much :)