Out of Stock
A-Line Illusion Floor-Length Chiffon Wedding Dress With Ruffle Beading Appliques Lace Sequins
#56526
Product Reviews
Write a review
H Elliott
2019-01-06 10:17:46
My wedding was September 2018. We weren't sure what the weather was going to be like and it was +32 degrees celsius and this dress was both light enough and cool enough for the day. I am a full figured woman and had them custom make the dress to my measurements. I also was wearing flat sandals on my feet so advised them of this and they didn't make it the extra two inches that they normally do in wedding dresses for heels. I was shocked when I first seen the package it came in and thought it would never fit. But I was totally wrong. This fit like a glove and the compliments that I received certainly reinforced my first impressions when I put it on. The workmanship was beautifully done. It fit great and it was very comfortable. I wore a regular bra under it and simply just took the straps off and put on clear ones so that they wouldn't show through the beautiful bead work on the bodice of this gown. I also got it in the champagne color and it was a little darker than I expected but was great with the the hair piece that I got for the back of my hair. Thank you JJ House for the beautiful dress for my important day. Beautiful dress with great pricing and came within 3 weeks of my order which is awesome.

I purchased this dress with a bit apprehension.. however I have received my dress and can honestly say it's definitely MY DRESS.. I tried it on and ended up crying because i got that feeling everyone says you get when you've found THE dress..its stunning the size fits perfect.. quality is amazing and the detail is gorgeous..i can't be happier and can't wait to wear it on my special day... thanks so much JJS HOUSE
Yayayayay
2018-01-17 18:09:29
My deets: Usually wear a 24 in pants, 22/24 in tops, 3X otherwise. I'm a 44DD and 5'9". My wedding is in May of this year.

I took a huge leap of faith buying from JJsHouse. I honestly started off on January 1st, 2018 looking at NYE sales on the David's Bridal website. I found an amazing dress that I thought was "the one". However, for whatever reason the sale would only let you buy in-store, and I'm 30+ minutes from any DB store so I looked for the style of dress on other bridal websites. I found one extremely similar on JJsHouse, and I was about to buy it when I decided to browse their other selections. This ended up being my ABSOLUTE favorite dress in look and shape. I needed something to hide and flatter my tummy and waist, hide my back fat, and I wanted something higher up my chest so I wasn't worried about cleavage all day long. Less fabric around the waist of dresses makes me look pregnant. I paid extra to put in my exact measurements-- WORD OF ADVICE- get someone else to help you measure yourself, and wear thin single-layer clothing when you do. My grandma used to sew a lot and she knew what she was doing when she measured me. I opted out of the extra two dress inches for heel height as I'll be wearing flats-- if you have special notes or don't want the extra inches or need MORE, there's a place to type notes as you check out. That's what I did, and along with my custom measurements the dress came in perfectly. It's even more beautiful in person.. I couldn't have asked for a better fit. If I had to gripe about a single detail at all, it would be what other reviewers said: the arm details can dig in a bit. They aren't necessarily too tight on me as much as they are uncomfortable. But I'm fine with a tiny nagging applique on my arms for a few hours to have such a flattering dress. It isn't easy to find things that suit me well, and JJsHouse made my dress well, paid great attention to detail, and the measurements were spot on. This is the dress for me.
So once again, if you like this dress, make sure someone else measures you correctly or else you probably will end up with the wrong fit. Also, in my photos I do have a bra on that I won't be wearing to the wedding- my chest is large enough that I may need to go with a strapless bra, but there IS some structuring in the cups.
I got multiple emails and texts with updates about where my dress was and when it was shipped. The employees of JJsHouse will also email back and forth with you if you wish them to. Thank you guys, so much.
I ordered on 1/1/2018, the dress arrived an hour ago on 1/17/2018 in a smaller box than I anticipated. The dress comes inside out in a medium zipped bag to protect the detailing, which is very nice, but surprising. It was supposed to be here the 15th but bad weather delayed it a bit. I'm not upset about that, though!
Sorry for the extra long review, I just thought I'd write out the questions and concerns I had and how they were worked through.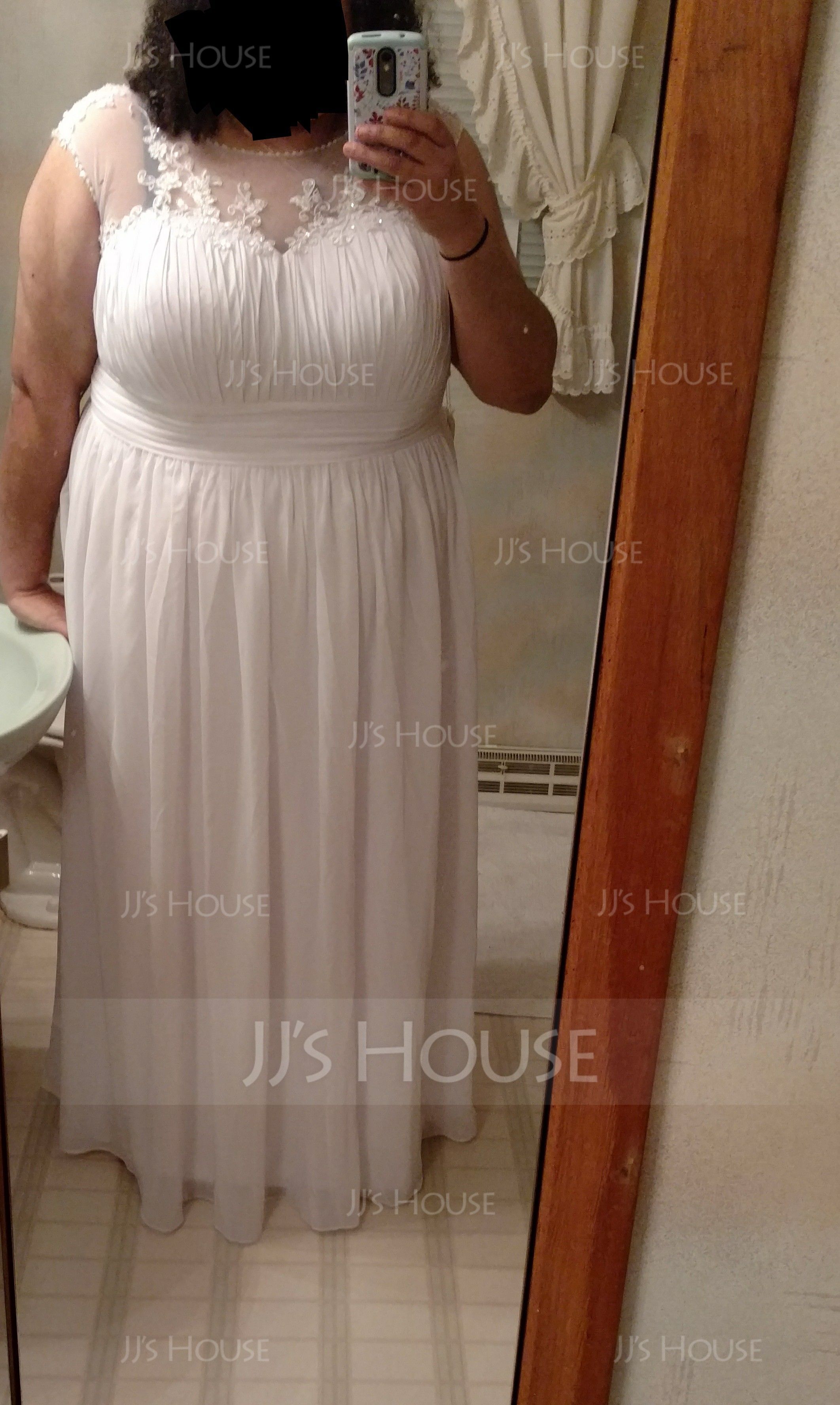 Savanna Racheal Salgado
2016-05-29 12:22:37
The time and rush JJhouse put in on the dress was amazing. I did do custom measurements and the dress cam out wayyy too big. The boob area was down to my tummy. I took it to every tailor in town and not one of them would work on this dress. My Nana ended up pinning everything. I had a giant fold ing my sweetheart top and the mesh cut the hell out of my arms.

jsheppard34
2016-03-19 03:45:46
I received my dress and its beautiful!!! Fits perfect but was to long! Can't wait to walk down the isle and marry my soulmate!!!! Its been a long 16 years waiting for this wedding and the dress is just perfect!!!!!
Marneevans
2015-08-29 05:40:19
I am a bigger girl and I struggled to find a dress that I felt sexy and more beautiful in because let's face it, we all want to look beautiful on our wedding day. This dress does just that... It makes me feel beautiful. When I wear it I am no longer concerned about how fat I might look or what people view of me. This dress is well made and came quicker than they originally anticipated. Thank you so much for giving me the dress of my dreams and making it with love.

jwillingale
2015-08-17 15:22:45
I purchased this dress after looking at the reviews and was not disappointed. The customer service was brilliant from start to finish and I could speak to an agent on chat whenever I wanted. The dress is gorgeous and I can't believe how comfortable it is. The built in bra is a godsend. It also very flattering on my bigger figure. Thank you so much.
Dove Milhon
2015-05-04 23:00:15
The dress was gorgeous! I bought it in blushing pink, and was really happy with the beading and the quality of the dress. Surprisingly, it was also comfortable to wear around the waist and over my breasts. I love that it has a built in bra, so that was one less discomfort that I had to worry about. My only comment and suggestion is that JJ's House does not have ARM measurements. If your arms are large like mine, you will have to tailor the arms for your own comfort. It would be great if JJ's would add an arm measurement for all the big girls like me. :)

I love my dress! I bought it in blushing pink and it is absolutely beautiful! I received it just a little over a week. I also ordered other items from the site and they were all in excellent condition. I couldn't be happier with the products. Thank you!!
loic.sara
2015-03-23 07:09:13
Je viens de la recevoir, elle est superbe