Half-Sleeve Satin Special Occasion Wrap
#12283
Wraps
+
* Expedited Shipping: 3-6 Days
* Standard Shipping: 5-8 Days
* Super Saver Shipping: 15-30 Days

* Expedited Shipping: 3-6 days
* Standard Shipping: 5-8 days
* Super Saver Shipping: 10-15 days
Tailoring Time

:

12-15

days
+
Delivery Time: 3-6 Days * Expedited Shipping: 3-6 Days
* Standard Shipping: 5-8 Days
* Super Saver Shipping: 15-30 Days
* Expedited Shipping: 3-6 days
* Standard Shipping: 5-8 days
* Super Saver Shipping: 10-15 days
Worry-Free Returns are available for standard sizes within 7 days. Custom sizes are final sale.
See Details
Description
Founded in 2007, JJ's House is the global leading online retailer for wedding gowns, special event dresses, wedding party dresses, fashion dresses and accessories. Customers can browse the vast online selection and choose their favorite dresses with great satisfaction.
Product Code
#12283
Category
Wrap
Occasion
Special Occasion
Fabric
Satin
Sleeves
Half-Sleeve
Season
Winter, Fall
Shown Color
Pearl Pink
Best Selling Items
RECOMMENDATIONS
Product Reviews
Write a review
Sabrinawhill
2018-09-28 16:19:24
azmiggie
2017-01-04 13:51:05
ninetwofive
2016-07-06 18:09:07
I love this bolero. I have purchased 3 now, jade, fuschia and blue. So versatile and due to its style fist most body shapes. I wear them to tizzy up simple little black dresses. They make a stunning statement, and I always receive compliments whenever I wear them. I highly recommend them to anyone who loves simplistic elegance. Marijke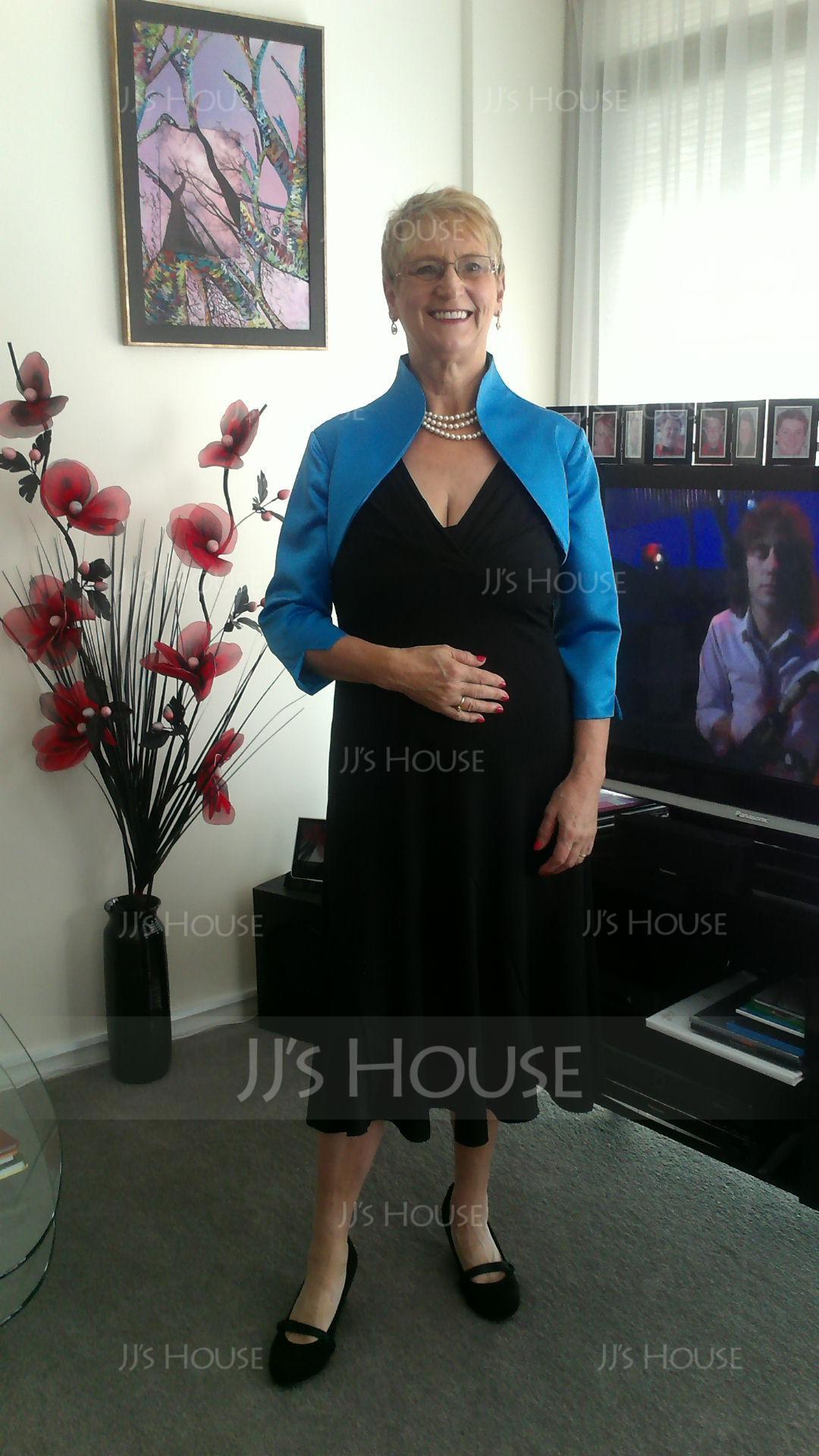 ninetwofive
2016-07-06 17:31:58
I have purchased 3 of these Half-Sleeve Satin Special Occasion Wraps. 1 Jade (see photo), 1 Fuschia and 1 Blue. Love them. They are fit well, and go with so many plain dresses to make them look spectacular. Its simplistic bolero style lends itself to most body shapes, as it does not cover the breasts. I am very heavy breasted compared to the rest of my body, so this style is ideal. Love them. Marijke

aus.eksteens
2016-05-20 15:21:31
This is a must have in every woman's wardrobe! This jacket fits perfect and the material used is of high quality. I usually have trouble with fitting into some sizes and end up in between sizes because I have a big bust and small waist but this size 16 was perfect! I just love this jacket and will be wearing it a lot! Thank you JJ's for making clothes of good durable neat quality!

rj.burley
2017-08-22 01:30:41
Readymade and just as pictured. I can highly recommend this jacket.
rj.burley
2017-08-22 01:30:40
Readymade and just as pictured. I can highly recommend this jacket.
office
2017-05-25 17:18:08
Sleeves shown longer than reality, good fabric and the collar is great.
This jacket is exactly what I was searching for to wear with my wedding dress, which is strapless. It's enough to cover my upper back and shoulders but is short enough in the back that the corset-back of my dress is still visible. I'm very happy with it!
vtzineris
2016-12-08 17:02:12
thank you so much, i look forward to the rest of my items
i hope they are as satisfactory as this purchase.
if i am happy with the items, you have not seen the last of me.

kind regards

Vicki
Related Tags